We knew from Carioca's solo shoot he had everything we were looking for in a model – tall, dark, handsome and oh, so hung, with a stunningly toned body… he was also a really nice, gentle guy, with a great smile and a big heart.
Carioca had the kind of body only achieved by personal trainers and dedicated bodybuilders – and when we were offered a brand new fully equipped gym to shoot in, the personal trainer theme was a given.  We had to be gone before the first customers arrived at 9 am, but we were all stoked about the shoot, so an early start wasn't a big deal.
We found a great partner for Carioca in Rafael – another Brazilian lad, who had just arrived in London, looking so so good; toned body, big smile and a big appetite for big cocks. Rafael had literally just landed and had about a dozen English words in his vocabulary, so communications were, er, not as straightforward as usual, but Rafael showed at the ridiculously early hour for the shoot (still up from the night before, but hey, he was 22, so it didn't phase him) and we started shooting on schedule.
Ok, it was a little unusual to be shooting two Brazilians for a British site, but when two of the hottest guys in London happen to be tourists, we're more than happy to have them! Carioca's English was near perfect, so he was able to translate to Rafael what we needed from him – and some of that was a surprise to him, as he thought we were just shooting stills – but he hardly blinked an eye and got into the swing of a video shoot within minutes.
The gym was full of mirrors; great for admiring yourself as you work out and great for those reflected shots we love, where you get to see the action from all angles, it was a dream setup, (unless you're shooting with two cameras, as we always do, we're so greedy, we want to see all angles, can't bear to miss a thing) or when you're the editor, who has to crop out all those great shots of me and my cam reflected in a mirror.  He's so good, I rarely get even a bit part :/
Carioca's huge, silky shorts were soon tenting and Rafael took his cue, sliding a hand inside… I don't remember us saying very much as the guys had bags of natural chemistry going on – I do remember the end though; a 'technical hitch' meant we over-ran our allotted time and were shooting Carioca's splendid, gushing cum-shot as the first gym members were arriving. We had to pack away lights and cameras (and wipe down the equipment) with an audience of five or six muscle guys. The gym smelled of sweat and cum at 9 am and before breakfast, we had a great scene in the bag.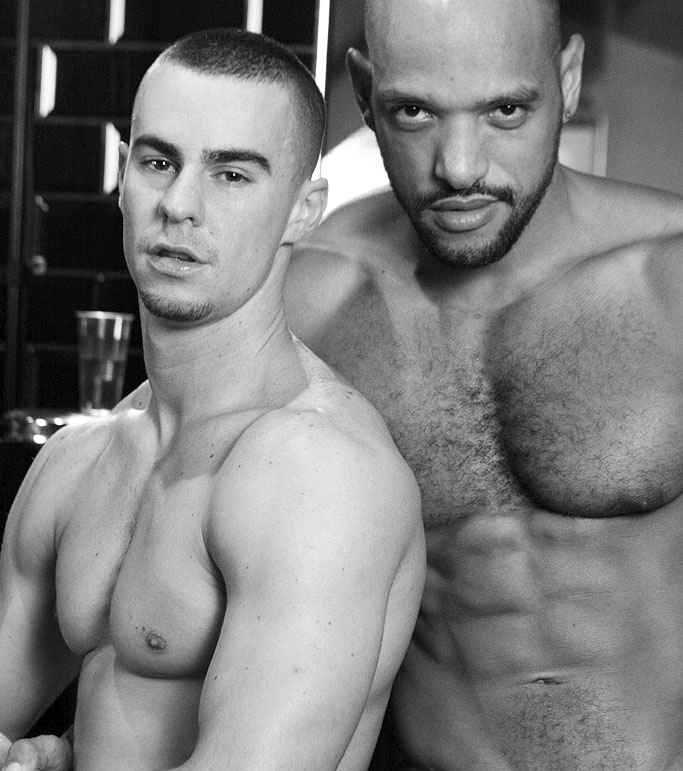 A Very Personal Trainer has been remastered, it's now available to download in 1080p HD for  uknakedmen.com members
Or as a single scene from jonnostore.com